About the Index
Kälin and Kochenov's Quality of Nationality Index (QNI) is designed to rank the objective value of all the world's nationalities as legal statuses of attachment to states. Looking beyond simple visa-free tourist or business travel rights, the QNI takes a number of other crucial factors into account to demonstrate that the world's nationalities are not equal, and that some nationalities afford a better legal status than others to develop your talents while living a rewarding life. The emerging picture reveals that while some nationalities are welcomed bundles of rights, others — the majority, in fact — are clear liabilities for their holders.
Published by Hart, the QNI ranks nationalities — legal statuses of attachment to states — rather than states per se. It takes into account the increase in world migration flows as well as the lack of a correlation between the nationality held by a growing number of active individuals and the countries in which their businesses are established and lives are lived. Such considerations fundamentally distinguish the QNI from the majority of other indexes and rankings, which take states — that is, sovereign territorial entities — somewhat too seriously. In today's globalized world, the legal status of millions of nationals extends their opportunities and aspirations far beyond their countries of origin: the confines of the state simply are not the limit of one's ambitions and expectations.
The reality that the QNI describes is regrettable in many respects: in most cases our nationality plays an important role in establishing a highly arbitrary ceiling, one that determines our opportunities and aspirations. This ceiling reflects the core aspect of being a national of some specific place: nationality is based on a random act of birth that bears no correlation to any person's achievements, ideas, feelings, and desires — instead, it is the result of a 'birthright lottery', in the memorable phrase of Ayelet Shachar. This is something that the designers of the QNI do not endorse but nevertheless observe as part of the day-to-day global reality and that the Index aims to document. The QNI, updated annually, is the source of a dynamic understanding of the quality of world nationalities as measured by a set of clear and transparent criteria.
QNI Explainer
Download a simple yet sophisticated explanation of the QNI here: QNI Explainer
The article by Prof. Dr. Dimitry Kochenov and Mr. Justin Lindeboom entitled 'Empirical Assessment of the Quality of Nationalities' was published in the European Journal of Comparative Law and Governance Volume 4: Issue 4: brill.com/view/journals/ejcl/4/4/article-p314_314.xml
About the Creators
The QNI is the result of successful cooperation between Dr. Christian H. Kaelin, Chairman of Henley & Partners, the global leader in residence and citizenship planning, and Prof. Dimitry Kochenov, a legal academic who has been writing about citizenship and teaching nationality and immigration law and policy for more than a decade. The first Hart Publishing edition of the QNI was co-edited by Prof. Kochenov and Mr. Justin Lindeboom.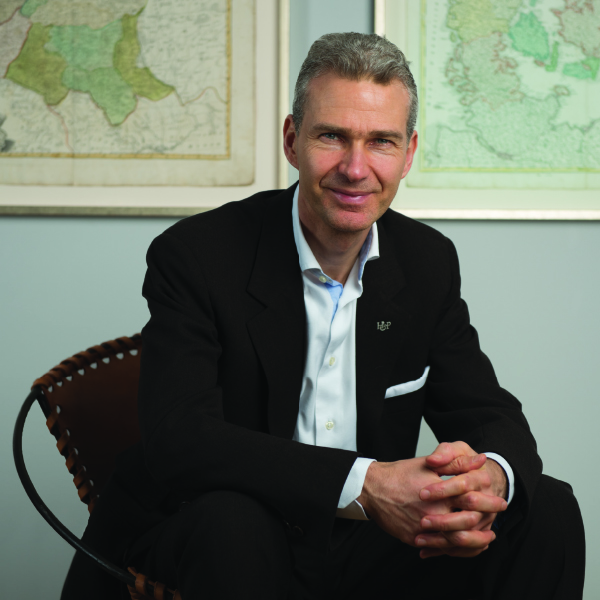 Dr. Christian H. Kaelin
Dr. Christian H. Kaelin, TEP, IMCM, Chairman of Henley & Partners, is considered one of the world's foremost experts in investment migration and citizenship-by-investment, a field he pioneered. Holding master's and PhD degrees in law from the University of Zurich, he is a sought-after speaker and advises governments and international organizations. He is the author, co-author, or editor of many publications, including standard works such as Ius Doni in International and European Law (Brill-Nijhoff, 2019), the Switzerland Business & Investment Handbook (Orell Füssli, 2017), and the Global Residence and Citizenship Handbook (Ideos, 2016).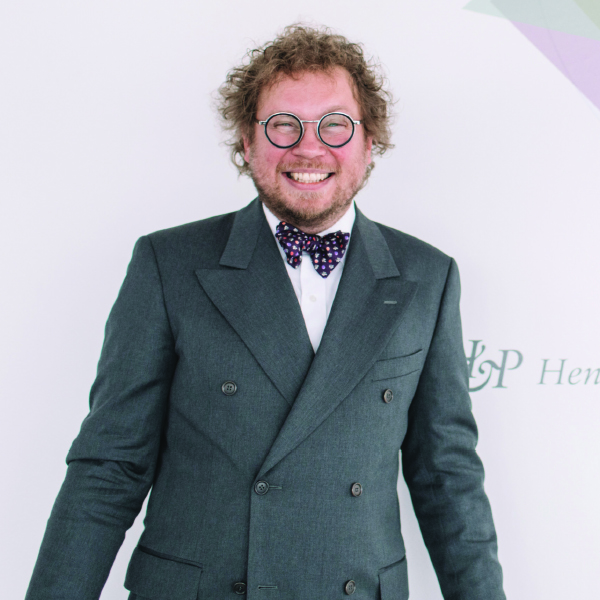 Prof. Dimitry Kochenov
Prof. Dimitry Kochenov holds a Chair in EU Constitutional Law at the University of Groningen in the Netherlands. He has held numerous fellowships and visiting professorships worldwide, including at Princeton University (Crane Fellowship in Law and Public Affairs at the Woodrow Wilson School and Visiting Professorship at the Center for Human Values), NYU School of Law (Emile Noël Fellowship), Boston College Law School (Senior Clough Fellowship), Basel Institute for European Global Studies, and Osaka Graduate School of Law and Politics, as well as a Visiting Chair in Private Law (Citizenship) at the University of Turin, Italy. He publishes widely on different aspects of comparative and European citizenship law and migration regulation, and he consults for governments and international organizations on EU constitutional law and citizenship issues. Prof. Kochenov's latest book is Citizenship (MIT Press, 2019). His edited volumes include EU Citizenship and Federalism: The Role of Rights (Cambridge University Press, 2017) and The Enforcement of EU Law and Values (Oxford University Press, 2017, with András Jakab, University of Salzburg).
Investment Migration
A World of Opportunity with Alternative Residence and Citizenship
As the world has become both increasingly globalized and increasingly volatile, the need for greater travel freedom and improved safety and security has grown steadily. Across the economic spectrum, individuals seek to transcend the constraints imposed on them by their countries of origin and access business, education, career, and lifestyle opportunities on a global scale.
Alternative residence and citizenship represent the most direct routes to global mobility and overall stability, since individuals who have residence or citizenship in multiple jurisdictions benefit from each country's best practices and are less vulnerable to its risks and shortcomings.
What is Investment Migration?
In its most basic form, citizenship-by-investment denotes the process whereby qualified, vetted candidates are granted full citizenship in exchange for their substantial economic contribution to the passport-issuing state. Residence-by-investment denotes a similar process, but candidates in this case are granted temporary residence, which can be extended to permanent residence or, in some cases, citizenship.
There is no a priori hierarchy between residence and citizenship programs. Each type of program has its advantages, and each will meet the needs of particular individuals and families.
Residence-by-investment programs, for example, give ultra-high-net-worth individuals the option of physically relocating to favorable jurisdictions — either now or during retirement — and becoming tax residents of those jurisdictions. Residents of a country have full legal rights, including the right to live, work, study, and receive healthcare in that country.
Citizenship-by-investment programs, on the other hand, provide ultra-wealthy families with the privilege of a second or third passport, which affords them all the internal rights enjoyed by residents as well as the broader right of travel, trade, and settlement abroad.
Access the World's Best Investment Migration Programs
Henley & Partners is the global leader in residence and citizenship planning. Each year, hundreds of wealthy individuals, families, and their advisors rely on our expertise and experience in this area. The firm also runs a leading government advisory practice that has raised more than USD 8 billion in foreign direct investment. We have been involved in strategic consulting and the design, set-up, and operation of the world's most successful residence and citizenship programs. These programs uphold the highest standards of due diligence, attracting carefully vetted individuals who bring capital, business networks, and talent to the country in question. In exchange for their contributions, successful applicants are granted full residence or citizenship, as the case may be.
For more information on acquiring alternative residence or citizenship, please fill in your details via the enquiry box at the top of the page.
QNI Rankings
French Nationality Remains Best in the World, while Brexit Britain Risks a Dramatic Decline

For immediate release: Wednesday, 20 November 2019
---
French citizens can take satisfaction that their nationality has once again been ranked as the best in the world, while for citizens of the UK, the ramifications of a 'hard' Brexit could well sink the quality of their nationality from 8th globally, to 56th (the current position of China). This is according to the latest findings of the Kälin and Kochenov's Quality of Nationality Index (QNI), which is the only ranking that objectively measures and ranks all the world's nationalities as legal statuses.
Holding the top spot for eight consecutive years, France earned a score of 83.5% out of a possible 100% — less than one percentage point ahead of Germany and the Netherlands, which sit in joint-2nd place with 82.8%. While the difference between the quality of French and Dutch and German nationalities is relatively narrow, France's comparative advantage lies in its greater settlement freedom (attributable mainly to the country's former colonial empire).
In the top 10 on this year's index, Denmark finds itself in 3rd place with a score of 81.7%, while Norway and Sweden hold joint-4th spot with 81.5%. Positions 5-10 are held by Iceland (81.4%), Finland (81.2%), Italy (80.7%), the UK (80.3%), Ireland (80.2%), and Spain (80.0%), in that order.
The US occupies 25th place on the QNI with a score of 70.0% — the country's relatively poor standing is primarily due to its low settlement freedom compared to EU member states. China ranks 56th — a four-place improvement on last year, and the Russian Federation climbs up 2 positions to 62nd place. The UAE has attained its highest rank ever, securing 42nd place.
The bottom three nationalities on this year's QNI are South Sudan (157th), Afghanistan (158th), and Somalia (159th), with respective scores of 15.9%, 15.4%, and 13.8%.
Brexit likely to sink quality of UK nationality
EU countries generally perform extremely well on the QNI, largely due to the liberal degree of settlement freedom permitted between member states, as well as the stand-out quality of many of the nationalities in and of themselves. However, the UK could become the exception to this rule, with its current 8th position potentially in jeopardy if it crashes out of the EU without a deal in place.
Prof. Dr. Dimitry Kochenov, a law professor and author of Citizenship (MIT Press, 2019) and Dr. Christian H Kaelin, Chairman of Henley & Partners and author of Ius Doni (Brill, 2019) are the co-creators of the Index. Prof. Kochenov explains: "The UK may be about to establish a world record in terms of profoundly undermining the quality of its nationality without going through any violent conflict. Depending on the still-to-be determined outcome of Brexit, the UK could see itself falling from the elite group of 'very high quality' nationalities into the 'high quality' bracket. A truly 'hard' Brexit would result in the UK having a nationality that does not grant Brits settlement or work rights in any of the EU jurisdictions or Switzerland, Norway, and Iceland: a collection of the most highly developed places on earth, greatly diminishing the quality of its own nationality in an irrevocable manner: either you have such rights, or not – and in such a scenario UK citizens won't have them."
Although unlikely, in the worst-case scenario and depending on the economic downturn caused by Brexit, the UK could possibly fall even further and into the 'medium quality' tier alongside China and Russia.
Climbers and fallers on the QNI
Taking a retrospective look at the last five years, Timor-Leste (92nd) has been the highest climber on the QNI since 2014, rising 26 places and improving its value by 8.4% with a score of 33.1%. While Timor-Leste saw minor improvements in its Human Development and Peace and Stability scores, the country's Travel Freedom score almost doubled between 2014 and 2018. Colombia (59th) has also made a significant gain of 19 places and 11.6% in value since 2014, with a current score of 43.3%. This is attributable to the increased economic integration of South American economies and its improved Travel Freedom score, which has doubled since 2014 following the visa-waiver agreement between Colombia and Europe's Schengen Area countries in 2015.
Other notable risers over the last five years are the UAE (42nd with a score of 50.3%), which has ascended 14 places in the rankings, Moldova (73rd with a score of 38.6%), which has gained 9 places, and Croatia (24th with a score of 73.8%), which has improved its value by 19.6% and risen 5 places in the rankings — these countries having benefited from improved Travel Freedom scores. By contrast, the quality of the Qatari nationality has plummeted as a result of regional diplomatic conflicts, dropping by 25 places since 2014 to its current 78th position with a score of 37.1%. Libya, too, has dropped by 25 places in the last five years, now in 145th position and scoring just 21.7%. The Libyan nationality has seen a significant deterioration in its Peace and Stability score, and its Travel Freedom score has also decreased since 2014.
The inherent inequality of nationality
Dr. Kaelin says the index is highly relevant to both individuals and governments. "It's clear that our nationalities have a direct impact on our opportunities and on our freedom to travel, do business, and live longer, healthier, and more rewarding lives. The reality that the QNI describes is, in many respects, unfair and regrettable: in the majority of circumstances, our nationality plays an important role in establishing a highly irrational ceiling for our aspirations." Prof. Kochenov adds: "The QNI is a clear illustration of the simple fact that speaking of the different nationalities of the world as equal, or even comparable, is misleading. We see that some nationalities offer bundles of rights, while others, quite clearly, are painful liabilities, dragging down the holders."
-Ends-
Download the global press release here
For further information please contact:
Paddy Blewer
Group Public Relations Director
paddy.blewer@henleyglobal.com
Mobile: +44 774 190 9957

Sarah Nicklin
Senior Group Public Relations Manager
sarah.nicklin@henleyglobal.com
Landline: +27 21 850 0524
Mobile: +27 72 464 8965
Methodology
How Does It Work? The QNI in a Nutshell
Everyone has a nationality (citizenship) of one or more states. States' characteristics differ greatly — the landmass of the Russian Federation is huge, while Eswatini's is small; Luxembourg is rich, Mongolia less so. Just as states differ, so too do nationalities themselves. The key premise of the QNI is that it is possible to compare the relative worth of nationalities, not simply of countries. We believe that because a nationality is a legal status that significantly impacts its citizens' lives both inside and outside the territory of the conferring state, knowing the comparative value of a nationality is hugely important.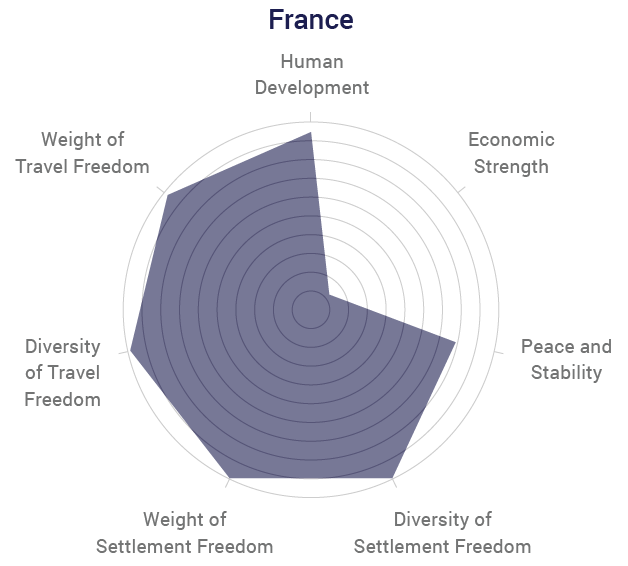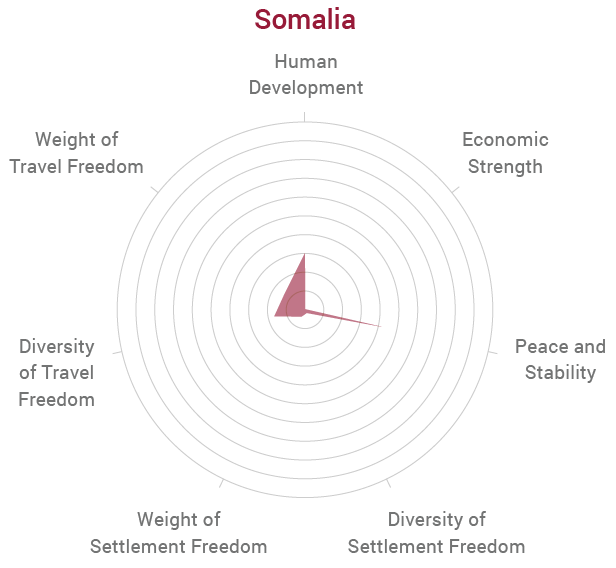 For a reliable comparison of nationalities, it is important to consider both internal and external factors.
Internally, the QNI looks at how successful the country is in terms of human development, economic prosperity, and stability and peace.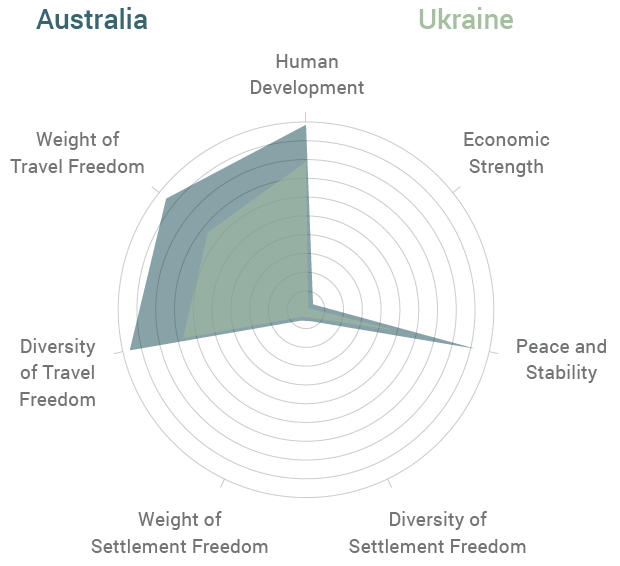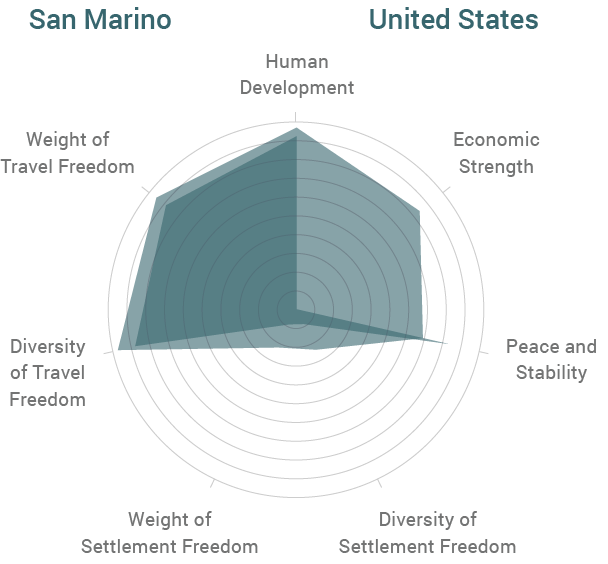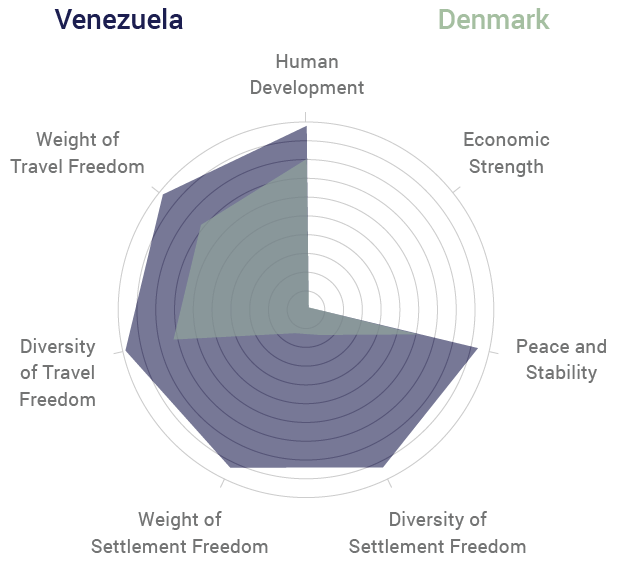 It is preferable to have the nationality of a country with long life expectancy, a good education system, and a high level of prosperity, such as Australia, than that of a country that offers less security and poorer education and health care to its nationals, such as Ukraine.
It is better to have the nationality of a country with a large economy, like the United States — and as a consequence, enjoy the rights to work and reside in it — than in a tiny country, however prosperous, like San Marino.
It is better to have the nationality of a peaceful and stable country, like Denmark, than that of a country with security risks, like Venezuela.
The QNI takes three internal factors into account:
Economic Strength
Human Development
Peace and Stability
External factors are no less important, however: some nationalities allow their holders to travel all around the world unobstructed, with no questions asked.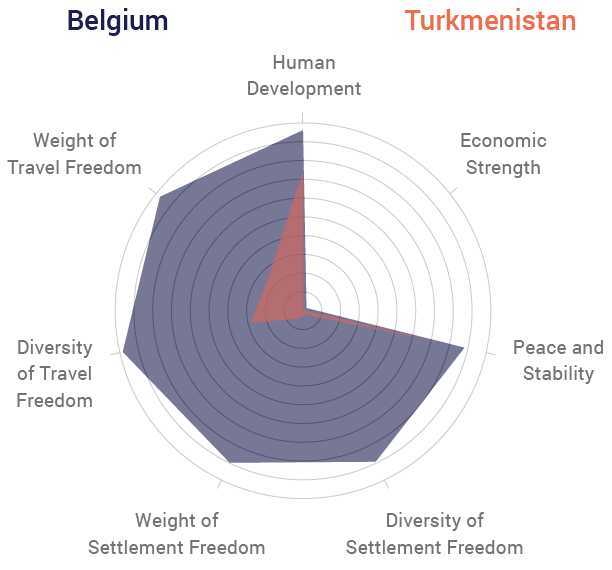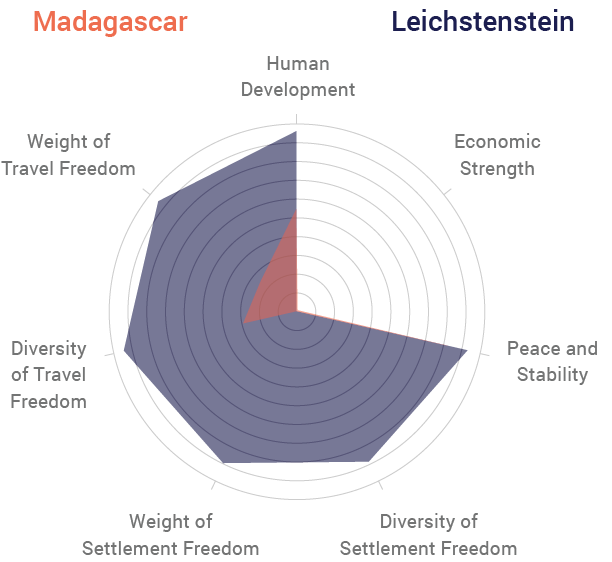 Consider the Belgian nationality, for instance, which allows visa-free or visa-on-arrival access to 176 countries and territories. Other nationalities require the acquisition of endless visas for tourist and business travel, and at times make such travel de facto impossible. The Turkmen nationality, for example, enables visa-free or visa-on-arrival access to only 51 countries and territories.
More importantly, however, most of the world's nationalities confer a right on their holders to be welcomed by other countries and societies besides their own — a right to home treatment. In this sense, possessing one nationality can give rise to plentiful rights in a number of states as opposed to in just one, including the right to work and the right to settle. Liechtenstein nationality, although conferred by a tiny country, gives its bearers full access to all the EU Member States and all the countries of the European Economic Area: Liechtensteiners are at home in 41 countries and territories, enjoying all the rights that the bearers of the local nationalities enjoy. When one compares this with Madagascan nationality, for example, which is associated with no such extraterritorial rights at all, the difference becomes clear.
Two external elements used to evaluate any nationality's worth are therefore extremely important:
Travel Freedom
Settlement Freedom
To reflect the added value of both elements in the most effective way, the QNI looks at two criteria. The first criterion is the number of other jurisdictions one can travel to or settle in while holding a particular nationality, because the diversity of the places one can live in or visit based on one's nationality has a profound effect on quality of life. In this respect, Liechtensteiner nationality is better than Madagascan nationality, and German is better than Turkmen.
The second criterion takes into account the Human Development level and Economic Strength of every possible country that a person with a particular nationality can travel to or settle in. By this measure, being able to travel to France visa-free is of greater added value than being able to visit war-torn Syria visa-free. The same is true for settlement: having an unconditional right to work and live in Germany, for instance, puts Icelandic nationality above Chinese nationality, since Chinese nationality does not even allow settlement and work in the totality of the territory of the issuing state itself. Indeed, the Special Administrative Regions of Macao and Hong Kong require mainland Chinese nationals to acquire permits to settle in or even visit them.
All of these factors were taken into consideration to create the QNI: Kälin and Kochenov's Index allows for an objective and impartial comparative assessment of the worth of all the world's nationalities. By taking both internal and, crucially, external factors into consideration, the QNI offers a clear account of which nationalities are objectively better than others, and disproves a number of unhelpful mythologies — such as that the possession of any nationality is equally fine or that the most prosperous and economically important countries provide their nationals with the best nationality.
Intuitively, we have suspected all along that some nationalities were great while others were, quite simply, terrible; now we know which are which, and the Index's intuitively understandable round charts allow for easy comparisons. The QNI divides the nationalities of the world into five tiers based on quality: Very High Quality, High Quality, Medium Quality, Low Quality; and Very Low Quality. This division gives a very clear idea of the standing of each of the world's nationalities at a glance.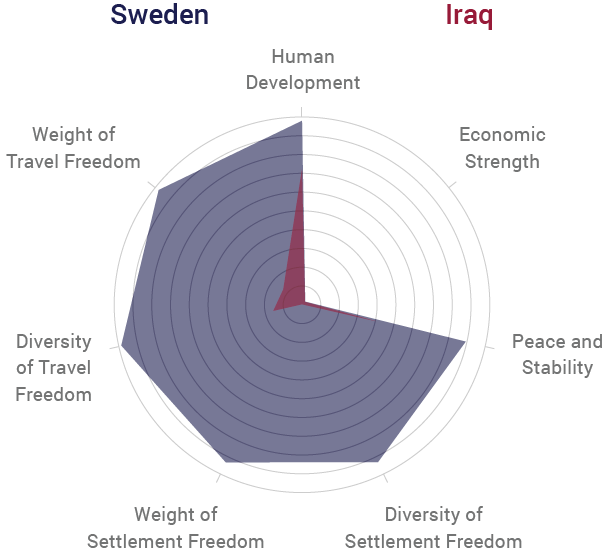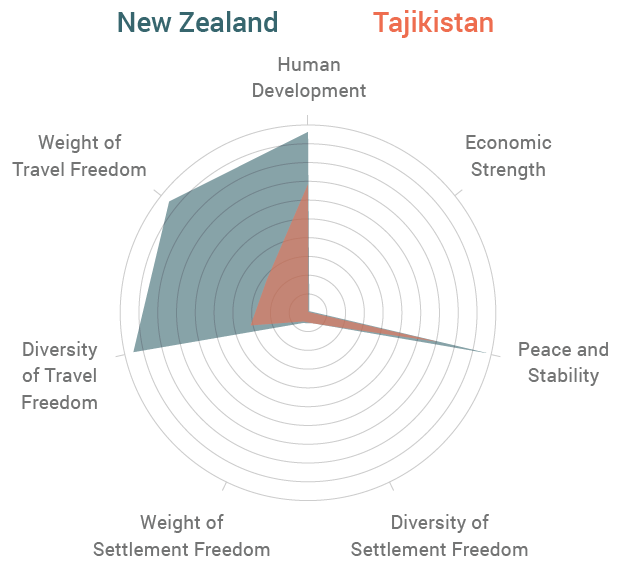 Updating this index annually will make sure that an up-to-date picture of the quality of world nationalities is readily available at any moment in time, illuminating medium- to long-term trends in nationalities' development.
More Details of QNI Measurement and Ranking
The QNI ranks nationalities on a scale from 0% to 100%. Scores are rounded to one decimal place. These rankings consist of both internal and external factors. The weighting of internal and external factors within the QNI General Ranking is 40% and 60% respectively, both built from critical sub-elements, as outlined below.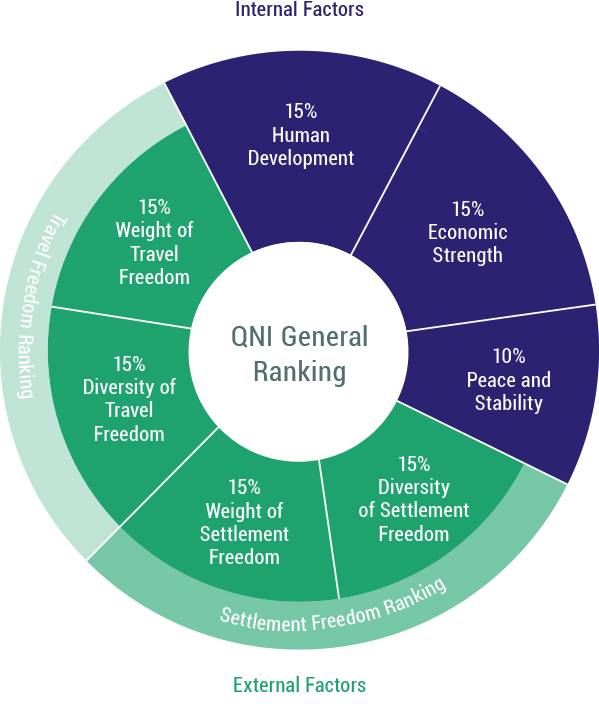 Internal Sub-Elements and Sources
Human Development is measured using the United Nations Development Programme Human Development Index which includes three dimensions of human development: health, education and standard of living.
Economic Strength is measured by a country's share of world GDP at purchasing power parity (PPP), excluding rents from the exploitation of natural resources — so-called natural resources rents (NRR). Where no sufficiently recent and/or reliable PPP GDP data could be used, (non PPP) GDP data from the World Bank is applied. Both PPP GDP data and NRR data have been collected from the World Bank. For some countries, there is either no or only incomplete PPP GDP available in the World Bank database. Where no sufficiently recent or reliable PPP GDP data could be used, the most recent (non-PPP) GDPs from the United Nations Statistics Division, National Accounts Main Aggregate Database, Trading Economics, and the World Bank are applied. Since the countries for which PPP GDP data is unavailable generally have extremely small-scale economies, the use of nominal GDP figures is highly unlikely to have affected their ranking.
Peace and Stability is measured using figures from the annual Global Peace Index (GPI) published by the Institute for Economics and Peace. GPI scores are ranked on a scale from 1.000 (most peaceful) to 5.000 (least peaceful). These scores are converted to the normalized 0–10 scale for the QNI's Peace and Stability parameter: the better a country scores on the GPI, the higher the Peace and Stability score of its corresponding nationality. The nationality of the most peaceful country receives the full 10% score, while a hypothetical score of 5.000 on the GPI would result in a 0% score for Peace and Stability.
External Sub-Elements and Sources
Diversity of Settlement Freedom measures the number of full-access countries  that is, countries with their own border controls and immigration regimes where the holder of a particular nationality can freely work and live and is subject to either no or only minimal immigration requirements. Data on the Diversity of Settlement Freedom is gathered through extensive research of the literature on the legal requirements for settlement throughout the world. Research on the formal legal requirements is complemented with expert consultation in all regions of the world. This ensures that only real and genuine settlement freedom is taken into account, and sham legal freedoms are not considered. As no antecedent on this topic exists, the QNI is the only source on global Settlement Freedom worldwide.
Weight of Settlement Freedom measures the combined value of the countries that a nationality allows one to settle in. This Weight of Settlement Freedom value is composed of the sum of all such countries' weighted scores on Human Development and Economic Strength, which both account for 50% of this 'destination value' for each destination. The sum of all these destination values becomes the total Weight of Settlement Freedom for a given nationality. This sum is normalized on a 0–15 scale.
Diversity of Travel Freedom measures the number of tourist- and business-access countries the holder of a particular nationality can visit visa-free or with a visa-on-arrival for a short-term stay. Work or recourse to public funds is usually strictly prohibited. To measure Diversity of Travel Freedom, data has been provided by the International Air Transport Association (IATA), the trade association of the overwhelming majority of airlines. IATA maintains IATA Timatic, the world's largest and most reliable database of travel information. QNI data is based on the status quo on 1 July 2018. For the QNI, the country scores received by IATA are directly transposed to the corresponding nationality. The more destinations a nationality allows you to visit for tourist or business purposes without requiring a prior visa application, the higher that nationality's value in terms of Diversity of Travel Freedom, again on a 0–15 scale.
Weight of Travel Freedom is based on the combined value of all countries allowing visa-free or visa-on-arrival tourist and business access to the holders of a nationality is composed of the sum of all of these countries' weighted scores on Human Development (accounting for 50%) and Economic Strength (accounting for 50%).
Time of Measurement
This QNI edition represents the status quo on 1 July 2018. Where up-to-date data as of 1 July is not available, the most recently available data is used.
Quality Tiers for Nationalities
The QNI divides the nationalities of the world into five tiers:
Very High Quality: Nationalities with a value of 75.0% and higher
High Quality: Nationalities with a value of between 50.0% and 74.9%
Medium Quality: Nationalities with a value of between 35.0% and 49.9%
Low Quality: Nationalities with a value of between 20.0% and 34.9%
Very Low Quality: Nationalities with a value of 19.9% and lower
QNI Explainer
Download a simple yet sophisticated explanation of the QNI here: QNI Explainer
The article by Prof. Dr. Dimitry Kochenov and Mr. Justin Lindeboom entitled 'Empirical Assessment of the Quality of Nationalities' was published in the European Journal of Comparative Law and Governance Volume 4: Issue 4: brill.com/view/journals/ejcl/4/4/article-p314_314.xml
Purchase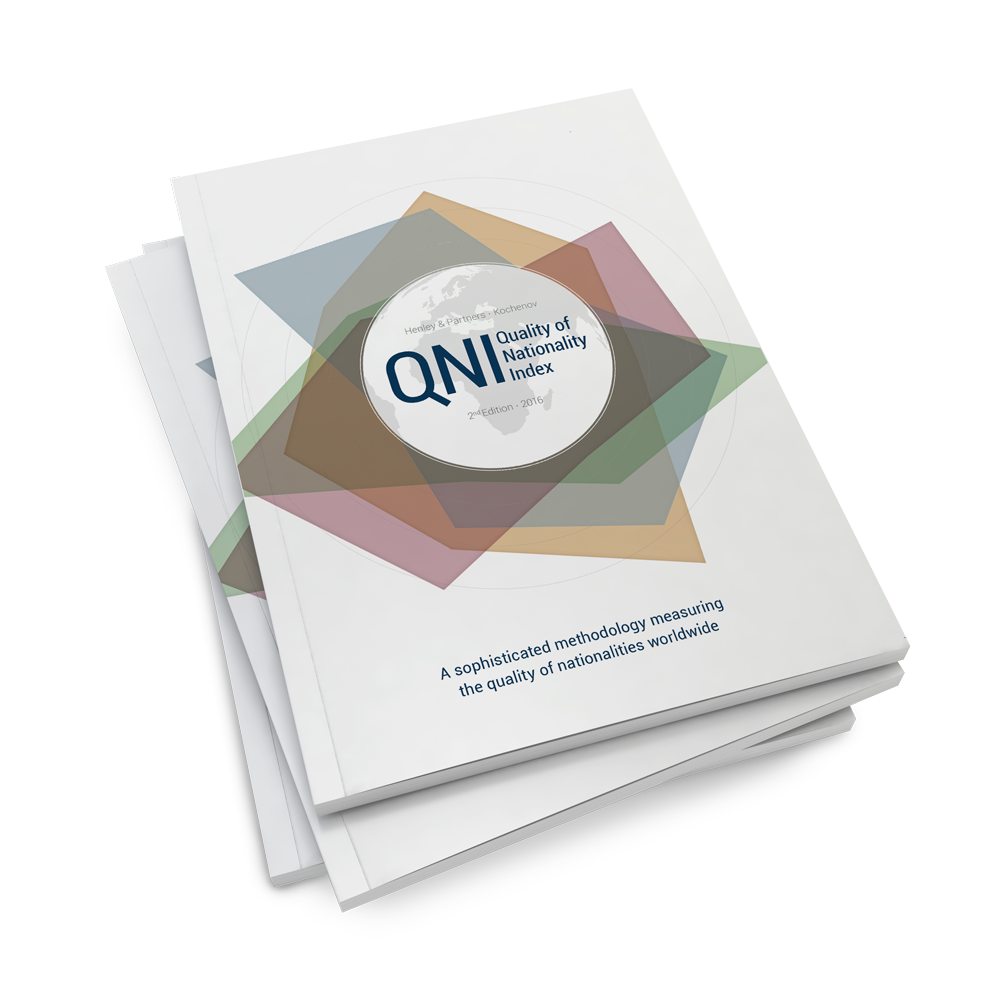 The Henley & Partners – Kochenov Quality of Nationality Index (QNI) provides a comprehensive ranking of the quality of nationalities worldwide. It can be purchased online from Amazon.com, using the link below.
Message sent!
Thank you for your interest - your enquiry has been emailed to a QNI representative.
---
Message not sent!
Unfortunately your message has not been sent due to an internal error, please try again later.
---